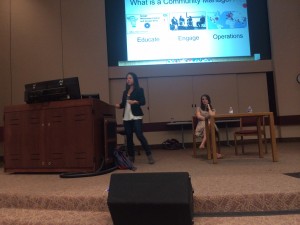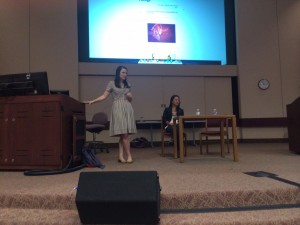 Stacie Chan (@staciechan) of Google and Annie Werner (@annie_werner) of Tumblr addressed the attendees at Texas States' MAss Communication Week this last Wednesday describing how they got their foot in the digital medial door and gave advice for those aspiring to do so.
After graduating from NYU  with a degree in new media and public discourse Annie Werner  landed an internship at a fledgling company called Tumblr. Now Annie Werner selects the best content to showcase and promote on Tumblr and brainstorms ways to improve the platforms usability with the sited engineers.
Werner extolled the importance of simply creating and making stuff. She also describes ways to enrich the content of a site. "Write an abstract about what your blogs about," said Werner.
Stacie Chan started out a reporter then moved into digital journalism with the start up Patch. After patch she moved to Google News where she holds the title of Partner Operations Manager and communicates with over 65,000 publishers.
Chan's advice for getting into the field or job you want is to just talk to people with jobs you want to do.
Both presenters agreed on the importance of women in the digital media field. "It just makes sense for the bottom line, said Chan"
Fundamentals of Digital Online Media