The style of web design that appeals to me most is the type that possesses a very clean appearance with big pictures or graphics.
The winery that produces my favorite wine also produced one of my three favorite websites. Avalon.com is a fresh, elegant looking website with large pictures featured at the top of each article that is only partially seen. The "more" button leaves readers with the choice to read more of the article if interested. This is a great idea to keep readers scrolling through their site without being overwhelmed with text.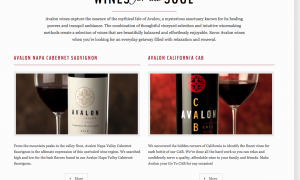 Another thing I like about their website is the portion of the homepage that is shown when first arriving to the site. Their logo is shown on the top left, followed by their navigation buttons and a massive picture of their product directly underneath.
Everything about that first glance of their page is what I like in a website. Big, beautiful picture and a map (navigation buttons) to lead you where you want to go. Another website that managed to capture the big picture with navigation buttons format is billabong.com.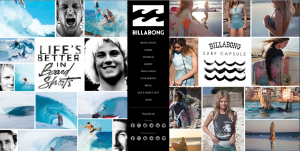 All of the pictures bring excitement and life into the homepage. The brand is clearly defined and leaving people curious to see more. Those who do choose to dive further into the site are met with nothing less than a web design masterpiece.
Not only are you met with more great pictures, when scrolling over them you will see that they are also links to different pages. Most of the ones featured in this section were clothing options (dresses, tops, bottoms, etc.) I absolutely love that idea. Love me some functional art.
The third of my three favorite websites is actually a local, San Marcos pizza parlor called Pie Society.
The three screenshots taken show what happens to the page as you scroll down. Once you've scrolled down enough, the menu appears. After that, you can scroll down and see more information. I really like the transition of the logo and general information straight into a totally new page through scrolling. Typically websites keep the same background throughout so that the scroll doesn't have that effect. However, I really enjoy watching the next part of the page come up and cover what you just saw.
Katie Wagman's Idea of Websites with Great Design