By Travis Atkinson
Creativity- that was the theme of an October 20th panel of media professionals during Texas State's Mass Communication Week. The panel, which consisted Meg Turney, Annie Werner, Kolten Parker, and Trei Brundrett, stressed the importance of creativity in online journalism and offered plenty of advice for students looking to get into the field.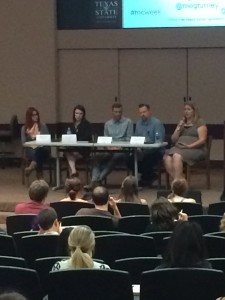 Online journalism is a different medium than print and requires unique ways to keep readers interested and engaged. Brundrett, the Chief Product Officer at Vox Media, says media organizations are constantly looking for innovative ways, "to make news fun without being disrespectful to the news."
Meg Turney of Rooster Teeth talked about how Youtube is transforming digital media. Anyone can put a video on YouTube and showcase their skills. "Show what you can do,"- this was a key piece of advice offered to students by the panel. They insisted that students should have an online portfolio of work that demonstrates their creative skills. Brundrett even said a Google search can tell him far more about a perspective employee's skills than their resume will. Key to this portfolio is an ability to code and webdesign. Parker says jobs in print are disappearing as the industry shifts online. Coding and web design skills are essential for anyone looking to get into journalism. The more skilled you are the more likely you are to land a job.
Turney and Parker are both Texas State graduates and Werner a San Marcos native. As a Texas State student it was great to see people in the media industry who are from the same area.  It provides an concrete example of how to make it and is one of the best things about Mass Comm Week.