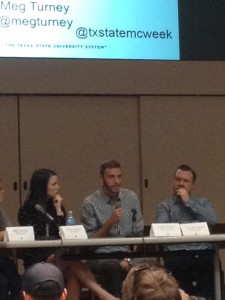 I actually really enjoyed the first session. I haven't attended many Mass Comm events but out of the ones I have attended, this is my favorite. I learned quite a bit during this session including what the most important thing employers look for in hiring an employee in the Mass Comm world is; an online presence Kolton Parker, Digital News Editor of the San Antonio Express News spoke the most about this topic. Parker said that he doesn't really look at resumes when they are sent to him, he looks up their name online and sees what he can find. It is more impressive to show people what you've done instead of talking about what you can do and there is no better way to do that than creating a portfolio. "Be aware of what your online brand is," says Parker. "Be original and authentic."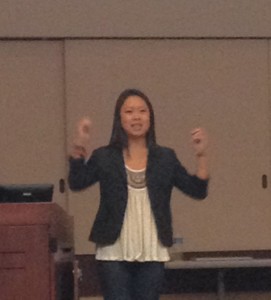 The second session was as equally entertaining. Stacie Chan of Google really stood out to me for several reasons, but mostly because Google is an amazing company to work for. Chan talked a lot about what it means to be ready to be a professional in your field, and what to do to maintain your professionalism after you get there. "Be ready for an opportunity to hit you in the face," said Chan. "Be authentic but put your best foot forward." I thought that was great advice because things aren't always going to go according to plan and sometimes the best opportunities are those that you don't plan for.
Chan also spoke about what skills are important to her career as a Partner Operations Manager at Google, and what sort of skills we should all learn in order to be more well-rounded and better able to communicate with our fellow peers. The skill she talked most about was her basic understanding of HTML Coding and how that helps her on a day-to-day basis when she is communicating with the Web Design part of her team.