As a self-proclaimed Internet troll, I spend a lot of time online which leads me to some pretty (and some not-so-pretty) websites. When we were assigned this blog post, I immediately knew which websites I should feature as I have been really into their design even before this class. It's funny because all three websites feature super similar content.
1. HelloGiggles.com
The brainchild of Queen of Cute Zooey Deschanel and her less-important, non-famous friends, HelloGiggles features everything from hairstyle tutorials to feminist news. Because of their audience (i.e. the fairer sex), HelloGiggles' website design shows off pretty pastel colors, lots of photos and an easy to navigate search bar that makes looking at pictures of kittens a snap.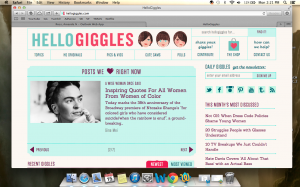 2. TheWonderForest.com
This one honestly shouldn't even count as it is a web design-beauty-fashion hybrid blog run by a successful web designer but it's so pretty that I couldn't resist. On top of having what might be the single most SEO-friendly blog in the world, The Wonder Forest features a selection of web design tips and paid templates so you too can have a pretty page. The sidebar navigation menu is drawn up in a watercolor-doodle style (so cute) but the easy-to-read fonts and super organized set up makes clicking through the pages so simple.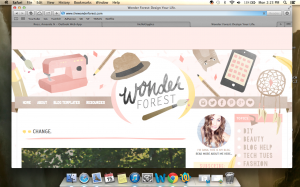 3. Essiebutton.com
Run by a British-Canadian beauty blogger, Essie Button herself commissioned the too-cute pastel paintings of her favorite things (including her precious pooch Reggie) that adorns the top of her website. The drop-down navigation menu even features corresponding pictures for each category, like a pink sprinkled donut for recipes and a lipstick tube for beauty. Even though I know this is something I could never hope to recreate with professional (i.e. very expensive) help, I really love how feminine and cutesy the layout of her blog it.