There are millions and millions of websites on the internet, but a lot of them are terribly designed and don't keep people's interest for more than a few seconds. Three site that I visit more frequently than others include espn.com, reddit.com, and twitter.com.
ESPN
ESPN's website is personally my favorite website to visit. Because it is a sports website, content is updated throughout the day when a big story breaks and has all the scores from games across the country at the top of the home page. The website is very customizable and you can create an account and pick your favorite teams and players to allow those teams to have priority over other games in the score ticker at thetop of the homepage.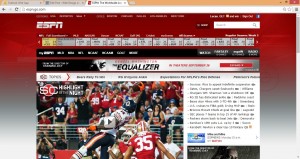 As you can see from the picture above, ESPN's front page is very easy to navigate and is full of graphics. Where the ticker is at the top of the page, my favorite team is highlighted a gold color to make sure I see my teams's score first.
REDDIT
Reddit's website is a very well designed website and is also very customizable. On the "front page" of reddit, you are able to see all the best memes and stories all over the internet. To customize reddit to your liking, just make an account and subscribe to your favorite "subreddits." Subreddits can include anything from college football to cats in hats. A few of my favorite subreddits are /r/cfb and /r/funny. These subreddits have all the biggest and latest stories in the world of college football and the funniest things across the web. Don't stumble too far into the depths of reddit though, or you may be disturbed for life.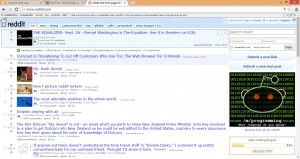 This is Reddit's "front page." All the links that are listed here are the best stuff from all over the internet. Follow your favorite subreddits and make only the things you're interested in pop up on the front page.
TWITTER
Twitter is a great website and my favorite social media outlet. Twitter is well designed because of its simplicity. There are no huge long posts and click-bait posts lurking in your feed like on Facebook. Twitter also allows you to unfollow someone very easily whenever people you follow insist on tweeting about stupid things. It's a great way to get breaking news quickly and if you follow people and accounts that interest you it is easy to digest that information.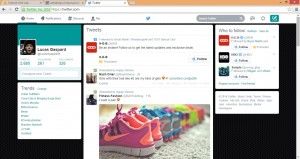 This is my personal Twitter page on my computer. On the left side of the page it shows how many followers I have and what is trending around the twitterverse. In the middle is my twitter feed where everyone I follow's tweets show up. People who post nice pictures can really liven up the feed. And finally on the right side of the page is the recommended followers that Twitter believes you may know.
Three Well Designed Websites